This Presidents Day, we'll be broadcasting two hour-long programs about two of the nation's most prominent leaders.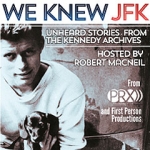 At 2 PM, tune in to hear We Knew JFK: Unheard Stores from the Kennedy Archives. Listeners will hear never-before-broadcast memories from JFK's confidantes recorded just after the assassination, as well as from JFK colleagues who were with him during his first political race in 1946, until his last days in office. 
At 6 PM, we'll be airing The Legacy of FDR. Pulitzer Prize winning FDR biographer David Kennedy gives a spellbinding account of this ebullient man of constant cheer who crafted the New Deal and the social security system.