Programmers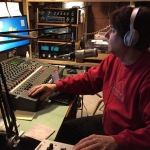 Chris Palladino
host of the Friday Night Platter Party & Today in Rock & Roll History
I grew up in Hagerstown, Maryland, with radio and rock and roll music as a constant companion. Late night AM radio in the 1960's seemed to hold a special attraction when the local stations would power down and the signal from stations like WKBW in Buffalo, WOWO in Cincinnati, CKLW in Windsor, Ontario, and WLUP in Chicago would drift in and out of the radio dial. To a kid from Western Maryland, these far off places may as well have been the moon. You could hear music play that maybe you hadn't heard on local stations. The late night airwaves would open up for longer versions of the usual three minute pop songs, songs the DJ's wouldn't or couldn't play during the day. And then came the records. The impulse to scour the local five and dimes to find a pile of records here, a bin of discs there, a stack of wax in a corner at the laundromat, became an obsession. The artists, the songs and songwriters. The producers and the labels they worked for, all fodder for discussion with like minded friends. In a very real way, that discussion continues on The Friday Night Platter Party from 6-10pm on WWCF-FM in McConnelsburg, PA. Having worked at record stores and part time commercial radio stations, I can tell you that listener supported WWCF is a rare opportunity for me to share with listeners over fifty years of rock and roll record collecting and the stories that go along with the songs.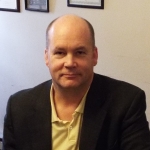 Bill Cromwell
host of The Third Floor
It's been a dream to be a classical radio program host, so here I am courtesy of WWCF. My love of classical music began with my parents and grandmother, listening to Prokofiev's Peter and the Wolf and Rimsky-Korsakov's Scheherazade when I was a child. I dozed through a few years of piano and sang in the church choir, but life changed when I auditioned for the Columbus Boychoir (now the American Boychoir) of Princeton, New Jersey. I won a full scholarship and boarded at Albemarle, the choir's mansion home, from grade 6 through 9. My lifelong love of classical music was fed and watered there. I sang at Carnegie Hall, I sang with the LA Philharmonic, I sang with the choir on The Today Show and Good Morning America, we made records, and we toured Europe and the States — my salad days. I'm a public school English teacher, having taught 8th grade for 25 years. I also enjoy reading, writing, astronomy, hanging with my family, and occasionally making loud distorted noise on my guitar. So, despite the fact that I also grew up on rock, particularly a lifelong obsession with Led Zeppelin, classical music has been an invaluable gift in my life, I'm absolutely thrilled to have the opportunity to share that gift with listeners on The Third Floor. All music has value, but I believe that regular exposure to classical music can be life-altering. The great choral, vocal, and instrumental music of the last 500 years has given musical expression to my heart and provided safe-haven for my soul.